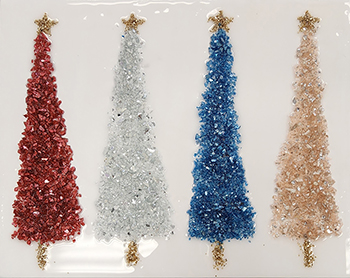 Resin Christmas Trees or Angels
Add some sparkle to the season
NEW OPTIONS!! You can create this on wood or framed glass. For the wood canvas, you will paint your background and then create your trees or angel right on top. This option is great for having a standup display, and the wood canvas has a frame on the back.
For the framed glass, this option comes with two sheets of glass, you will paint one for the background and create your trees or angle on the other sheet of glass. This option is great if you want some depth to the background. There will be black or white frame options to choose from.
You will get to pick from a lot of different crushed glass colors to make this creation stunning. We even have German crushed glitter to add that extra touch of sparkle!
This class is also great for kids 10 and older.
Book your tickets today!
Refund Policy::

You may cancel your ticket for a full refund, up to 72 hours before the date and time of the event. Cancellations within 72 hours before the event will receive a credit on their account that can be used towards any other class.

What to bring: :

Wear old clothes and sleeves that are short or can be pulled up. Pull long hair back. Wear old clothes. Aprons and gloves will be provided.