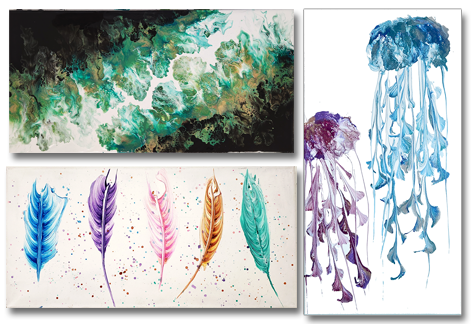 Paint Pours
Create any one of the options below in this class!
We just couldn't put on a class for just one of these, we want to do them all. No matter what option you choose, we'll walk you through all the steps to create your amazing paint pour masterpiece. And talk about an amazing Christmas Gift, if you can even give it away!
Dutch Paint Pour:
Beautiful wispy flowers in the colors of your choice are what make a Dutch Pour a really unique class. You can also do a two-color Dutch pour, these are truly stunning!!
Feather Pull Paint Pour:
Feather Pulls are truly a one-of-a-kind class, where you get to create as many feathers as you want, in the colors you want. On a 12×24 canvas, this will surely be a statement piece.
Jellyfish Paint Pour:
Pick your colors and create a stunning Jellyfish that will look amazing no matter where you hang it.
Refund Policy::

You may cancel your ticket for a full refund, up to 72 hours before the date and time of the event. Cancellations within 72 hours before the event will receive a credit on their account that can be used towards any other class.

What to bring: :

Wear old clothes and sleeves that are short or can be pulled up. Pull long hair back. Wear old clothes. Aprons and gloves will be provide